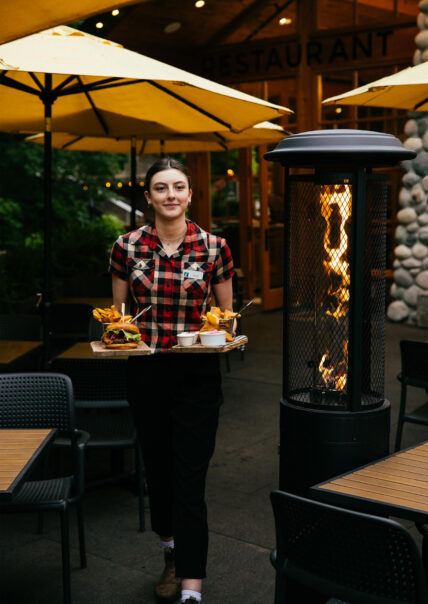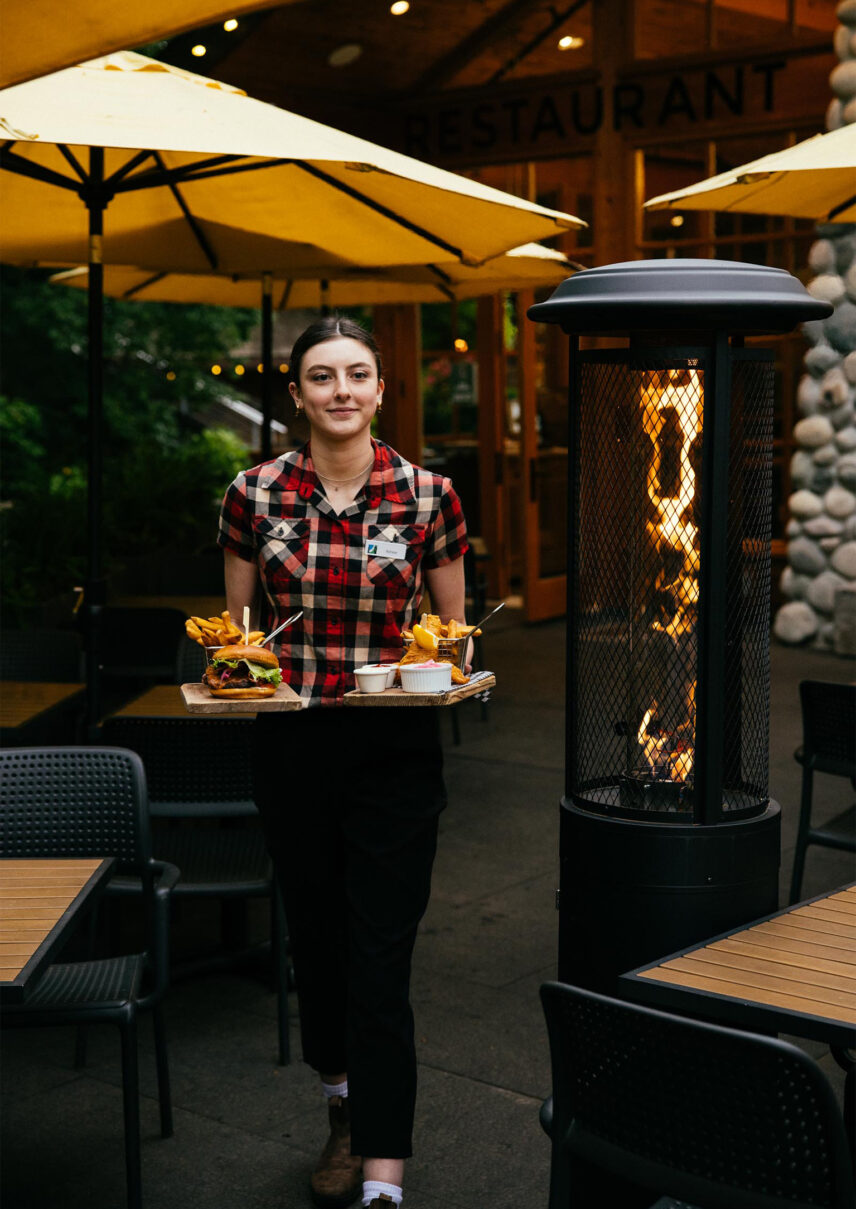 A Casual Dining Experience with a Captivating View
Overlooking the Park, The Cliff House Restaurant pays homage to the original Cliff House built on the canyon's edge in 1889. It's cause West Coast dining crafted from fresh, local ingredients and Ocean Wise seafood, with BC wines and regional craft beer on tap. Outside there's a big summer patio and inside, cozy seating with a dash of local history.
Hours: 10:30 a.m. – 5 p.m. daily
No reservations available. Seating is on a first come, first served basis for Park visitors.
Last seating is at 4:30 p.m.
Mains

Seafood Chowder

$19

Creamy-style chowder, shellfish, wild salmon, Pacific cod, potato, crispy bacon, baguette

The Bridge Caesar Salad

$17

Crisp romaine, caesar dressing, garlic brioche croutons, parmesan

Quinoa Salad

$18

Seasonal greens, arugula, red quinoa, blistered tomatoes, dried cranberries, candied pecans, feta, sumac

add grilled chicken or salmon +$9

Blistered Brussel Sprouts

$17

lemon juice, extra virgin olive oil, parmesan cheese

Truffled Parmesan Fries

$18

Fries, parmesan-truffle aioli

Mains

English Style Fish & Chips

$29

Pacific cod, local ale batter, house tartar, coleslaw, fries

Butter Chicken

$28

Basmati rice, mango chutney, naan bread

(available as Butter Paneer)

Lois Lake Steelhead Salmon

$29

Fingerling potatoes, brussel sprouts, lardons, grainy mustard and maple vinaigrette

House Burger

$26

Wagyu beef, brioche bun, cheddar cheese, bacon, pickled onions,
tomato, lettuce, truffle mayonnaise, fries

(substitute black bean and corn patty, without bacon)

Pulled Pork Sandwich

$24

housemade bbq pulled pork, coleslaw, brioche bun, fries

Desserts

Mini Donuts

$11

chantilly cream, caramel sauce, maple syrup and cinnamon sugar

Chocolate Brownie

$12

chantilly cream, caramel and chocolate sauce
Local Craft Beer & Cider (16oz Sleeve)

Elementary Lager

$9.50

Four Winds Brewing | Delta, BC
25 IBU | 4.5% ABV

Chase My Tail Pale Ale

$9.50

Yellow Dog Brewing | Port Moody, BC
50 IBU | 5.3% ABV

Bourbon Blood Orange Wheat Ale

$9.50

Bridge Brewing | North Vancouver, BC
20 IBU | 5.5% ABV

Way of Life Hazy IPA

$9.50

Neighbourhood Brewery | Penticton, BC
55 IBU | 6.9% ABV

Peach Rattler Mezcal Spiked Session Ale

$9.50

Black Kettle Brewing | North Vancouver, BC
11 IBU | 4.5% ABV

Sunshine French Blanche

$9.50

33 Acres Brewing | Vancouver, BC
14 IBU | 5.0% ABV

Cocktails (always a double)

Whiskey Sour

$15

Bourbon whiskey, sugar syrup, lime juice, egg white, bitter

Cliffhouse Caesar

$15

Stealth vodka (Vancouver), Clamato, spiced rim, pickled bean

Empress Delight

$16

Empress Gin (Victoria, BC) lychee liquor, lime juice, grapefruit juice, soda water, cane syrup

Long Island Iced Tea

$15

Tequila, rum, vodka, gin, lime juice, cola

Cliffhouse Old Fashioned

$15

Bullet bourbon, cane sugar syrup, angostura bitter, maraschino cherry

New & Notable (Always a double)

Cranberry Gin Fizz

$15

Gin, lime juice, sugar cane syrup, cranberry juice, ginger beer, egg white

Coco Rita

$15

Tequila, coconut cream, lime juice, pineapple juice, cane syrup

Cliff House Rainbow

$16

Vodka, peach schnapps, blue curacao, pineapple juice, grenadine, cane syrup

Hard Lemonade

$15

Vodka, lime juice, triple sec, cane syrup, soda

Espresso Martini

$16

Kahlua, coffee, vodka, cane syrup

Dark & Stormy

$15

Dark rum, ginger beer and lime juice

Spirit-Free Cocktails

Sweet Home Capilano

$8

Honey, ginger beer, apple juice

Blue Lagoon

$8

Blue curacao (non alcoholic) soda, 7up, sugar cane syrup

Mango Strawberry Cooler

$6

Mango puree, strawberry puree, ginger ale

Wine by the Glass (6oz | 9oz | bottle)

Gray Monk Pinot Gris

$12 | $16 | $40

2020 | Lake Country, BC
pure, peach, melon, apple, lemon, floral | 13.3% ABV

Tinhorn Creek Chardonnay

$12 | $16 | $40

2020 | Oliver, BC
gentle, clove, nutmeg, nectarine, grapefruit, macadamia | 13.5% ABV

See Ya Later Ranch Riesling

$11 | $15 | $38

2019 | Okanagan Falls, BC
Fresh and crisp, apple, lime | 12.7% ABV

Jackson-Triggs Sauvignon Blanc

$11 | $15 | $40

2020 | Oliver, BC
Fragrant, citrus and tropical fruit flavours | 12.0% ABV

See Ya Later Ranch Gewurztraminer

$11 | $15 | $38

2021 | Okanagan Falls, BC
Lychee, rose petal, grapefruit | 13.9% ABV

Latitude 50 Rose

$12 | $16 | $40

2020 | Lake Country, BC
Pinot noir, gamay noir, red berries, melon, blood orange | 13.8% ABV

Sandhill Cabernet Merlot

$12 | $16 | $40

2018 | Kelowna, BC
medium soft, black tea, cherry, currant, sweet spice | 14.5% ABV

Black Sage Cabernet Sauvignon

$16 | $22 | $55

2019 | Oliver, BC
oaked, blackberry, cherry, herbs | 14.5% ABV

See Ya Later Pinot Noir

$12 | $16 | $40

2020 | Okanagan Falls, BC
balanced. strawberry, sour cherry, smoky oak | 13.7% ABV

Wine by the Bottle (750ml)

Red Rooster Pinot 3

$48

2020 | Naramata Bench, BC | 12.5% ABV
Pinot Noir, Pinot Gris, Pinot Blanc, citrus, creamy and bright

Tinhorn Creek Cabernet Frank

$50

2018 | Oliver, BC | 14.1% ABV
dark cherry, licorice and dried dark fruits

Stellar Jay Songbird Brut

$48

2017 | Summerland, BC | 12.4% ABV
Pinot Noir and Chardonnay, green apple, citrus, almonds

Fairview Cellars M2

$50

2020 | Oliver, BC
merlot, rich, medium bodied, hints of violet, blackberry, chocolate, vanilla | 13.8% ABV

Soft Drinks

Pop

$6

Pepsi, Diet Pepsi, 7up, ginger ale, root beer, iced tea

Juice

$6

grapefruit, apple, orange, clamato and pineapple

Still or Sparkling Bottled Water

$7

Tea & Coffee

Moja House Coffee

$5.50

Espresso

$5.50

Cappuccino / Latte

$7

Tea

$6

earl grey, english breakfast, jasmine green, chamomile citrus,
peppermint, rooibos, earl grey decaf

Deluxe Hot Chocolate

$7.50

Add flavoured syrup or espresso shot

$1.25

Add liqueur

$5
Available until 1 p.m.

Eggs Benedict

$17

Two poached eggs, English muffin, peameal ham, hollandaise sauce, breakfast potatoes

Fritatta

$15

Three eggs, roasted vegetables, feta cheese, arugula salad, herb vinaigrette

Smoked Salmon Bagel

$21

Local smoked salmon, toasted bagel, chive cream cheese, red onion, capers

Breakfast Ceasar

$6

Stealth Vodka (Vancouver), clamato, pickled bean

Mango Sunrise

$5

Mango purée, cranberry juice, lime juice, soda, cane sugar
Mains

Chicken Tenders

$10

Caesar Salad

$10

Mac & Cheese

$10

Side

Fries

$7

Sweet Treat

Cookies & Ice Cream

$8

Drinks

Pop

$6.50

Pepsi, Diet Pepsi, Ginger Ale, 7-up, Root Beer, Ice Tea

Juice

$6.50

Cranberry, Apple, Orange

Milk

$3.50

Shirley Temple

$6.50

Orange Juice, Ginger Ale
Prices do not include taxes.