Nancy Stibbard's Forward-Thinking Vision
With her purchase of Capilano Suspension Bridge Park in 1983, Nancy set out on a journey of development and phenomenal success. Her commitment to exceeding guest expectations and to creating truly memorable guest experiences guides every aspect of her approach to business.
Nancy found initial success in retail, enhancing the merchandise at Capilano's Trading Post. She opened new stores in BC and Alberta, then purchased and rebuilt two luxury accommodation properties in the Canadian Rockies. In 2014, Nancy added Stanley Park Pavilion and Prospect Point Bar and Grill and Gift Shop to the Capilano Group portfolio.

Starting with the transformation of Capilano's retail offerings through renovation and high-end brands, Nancy brought her retail acumen to Victoria and Banff. It was in Banff where she discovered Moraine Lake. Nancy purchased the old premises and opened the Arthur Erikson designed Lodge in 1992. Next came Cathedral Mountain Lodge purchased in 2002 and rebuilt in 2007. The two now represent the finest boutique accommodations in the Canadian Rockies.
Meanwhile Capilano Suspension Bridge continued to expand, adding award-winning experiences including Treetops Adventure in 2004, Canyon Lights in 2005 and Cliffwalk in 2011.
In 2014 Nancy added Stanley Park Pavilion and Prospect Point to her portfolio. Both were renovated to become hubs of social activity within Stanley Park.

Nancy always aims to give guests a seamlessly enjoyable experience, achieving this through a commitment to theme, keen attention to details and extensive team training.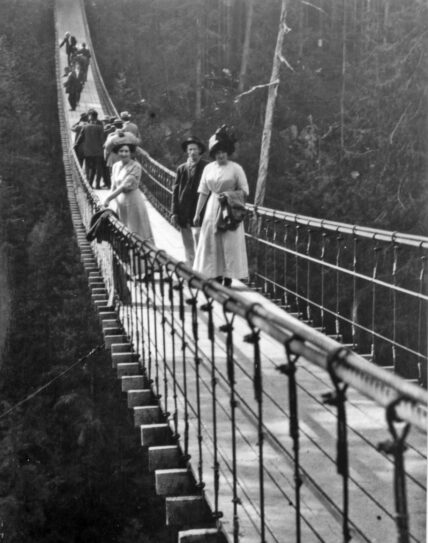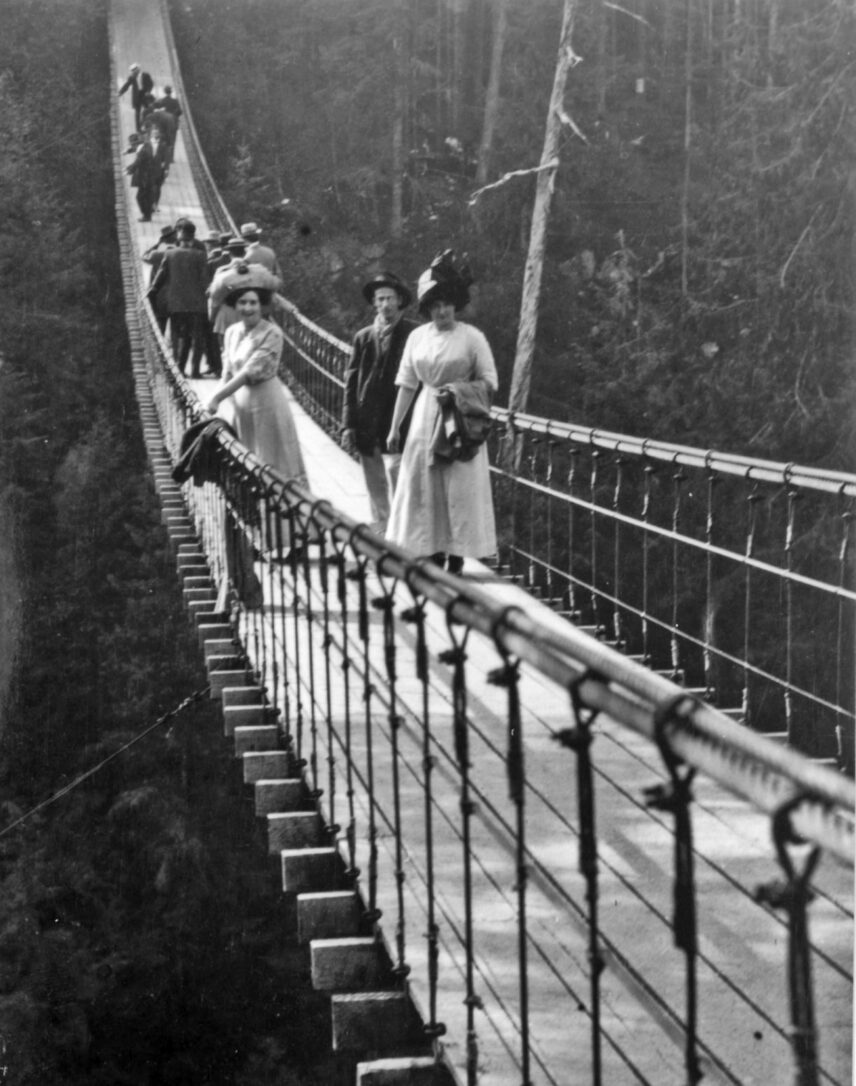 Inspired by the Past, Looking to the Future
The Park has a rich history, getting its name, Capilano, from the Squamish Nation's Kia'palano, which means "beautiful river." The Park's story is one of engineering feats, appreciation for the land and an eagerness to share its wondrous beauty with the world. It's a testament to respect for cultural traditions and commitment to environmental conservation.
1888

George Grant Mackay, a Scottish civil engineer and land developer, arrived in the young city of Vancouver. Mackay purchased 6,000 acres of dense forest on either side of Capilano River and built a cabin on the very edge of the canyon wall.

1889

Mackay suspended a footbridge made of hemp rope and cedar planks across the canyon. Mackay enlisted the help of August Jack Khahtsahlano with a team of horses who swam the ropes across the river. The ropes were then pulled up the other side and anchored to huge buried cedar logs.

1893

The bridge, and Mackay's cabin, became a popular destination for adventurous locals, who were dubbed the Capilano Tramps. They made a long journey by steamship before 'tramping' up the rough trail to Mackay's property. After his death, the hemp rope bridge was replaced by a wire cable bridge in 1903.

1914

Edward Mahon, who had arrived in Vancouver in 1888, purchased Capilano Suspension Bridge. In 1911, Mahon built the Tea House and continued to improve the property, reinforcing the bridge with additional wire cables in 1914.

1934

"Mac" MacEachran, a former forest ranger, purchased the Bridge from Mahon in 1935. Mac invited local First Nations to place their totem poles in the Park. In 1945, he sold the bridge to Henri Aubeneau and moved to California.

1953

Rae Mitchell purchased the bridge property from Henri Aubeneau, aggressively promoting his attraction to the world. In 1956, He completely rebuilt the bridge in five days, encasing the cables in 13 tons of concrete at either end. He also developed the trails on the west side of the bridge and converted the Tea House into the Thunderbird Banquet Room.

1983

Nancy Stibbard purchased Capilano Suspension Bridge in 1983 from her father Rae Mitchell. Her goal, to elevate the Park from a mere stop-off to a world class destination attraction, was realized in less than ten years. Nancy's incredible success has included induction into the Canadian Tourism Hall of Fame in 2000.
Previous Slide
Next Slide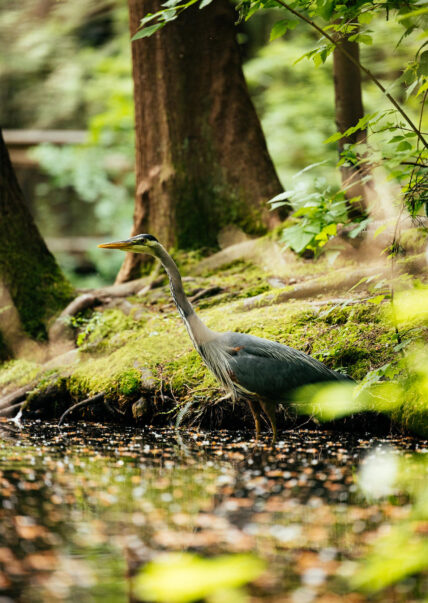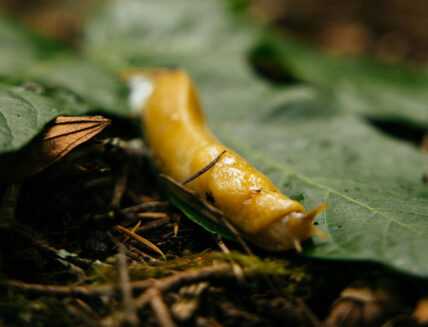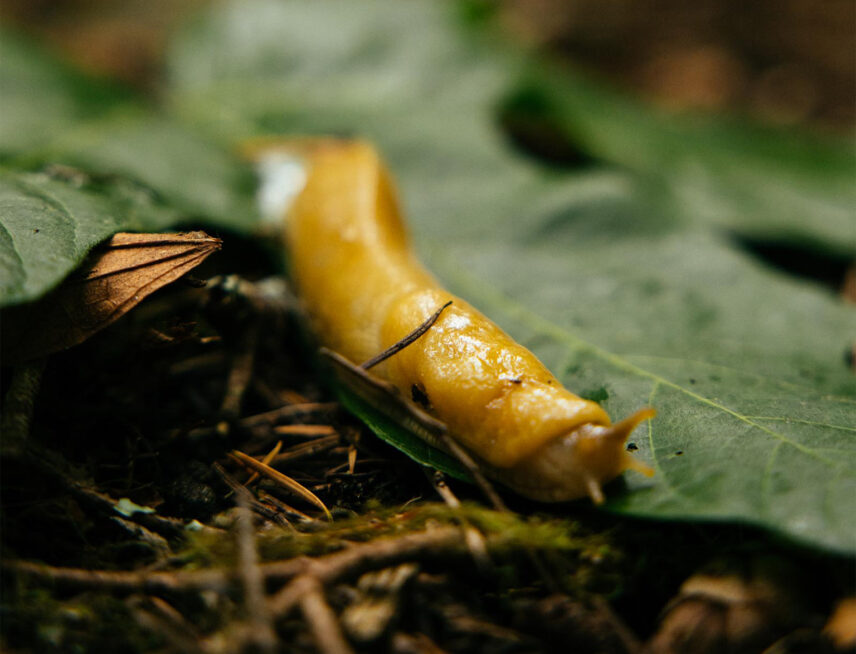 Leading by Example
Dedicated to environmental stewardship, the Capilano Group strives to be a leader in the tourism industry. Environmental stewardship promotes and encourages superior environmental performance at all of the Capilano Group properties. By seeking to reduce the impact on the environment beyond measures required by governmental permit or rule, we will produce a better environment, conserving natural resources and ensuring our long-term sustainability.
Environmental Stewardship
Committed partner to the Metro Vancouver zero waste challenge
Treetops Adventure won the 2006 APEGBC Environmental Award for Design and Construction
On-site composting and contracted services for organic waste
Wildlife partnerships with Raptors Ridge
On-site restaurants are members of the Ocean Wise Seafood program
Converted to the most energy-efficient bulbs and ballasts
Planted over 2,000 trees and shrubs in our rainforest over the last three years
Working towards our long-term goal of becoming a carbon neutral operation
Meet Our People
Our great guest experience is made possible by our wonderful team—including the friendly people greeting and guiding guests through the Park, the talented artists creating spectacular displays, and those working behind the scenes.